In order to control the stability of the quality and get the best quality we constantly acquire new production equipments in the manufacturing process. From the purchasing of Australias Merino Wool to the use of advanced European spinning, weaving and finishing equipments, we try our best to ensure consistent quality and excellent playing characteristics of each ANDY cloth produced.

ANDY billiard cloth must go through the testing of factorys delicate instrument after every phase of the manufacturing process to ensure standardization of quality. Wool- recombining, spinning fineness and uniformity, the precision etc. must be inspected before it joins the next production process. After weaving the cloth should go through strict visual surface inspection to trimming surface defects generated by the spinning and weaving before finishing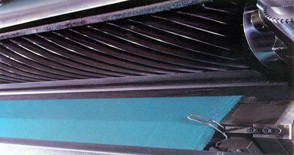 After finishing it would go through a manual inspection to ensure the smooth of surface. There is also a inspection for all indicators (composition, color fastness, hairiness, durability) before packaging and storage. All these stringent and complex production process are for offering each customer the ANDY billliard cloth of the best quality.